The following demonstrates the processes and tooling used to form our pierced bar element.
Below, 5/8" bars are marked for slit and drifted hole. Small drilled holes guide the punch.
Heating the 5/8" bars in the Johnson Forge.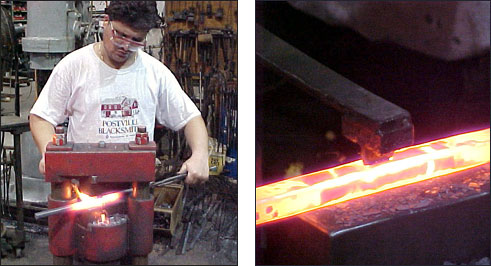 Punching on KA 75. One hit, turn over for 2nd hit, turn and hit, turn and hit and finished. Four blows to complete operation.
Finished bars. This operation is so fast there's still heat in previously formed bars.
Slitting tool made from H 13 hot working tool steel. Slightly taller than half the material thickness.
 
Tooling used in the flypress to open the slit drifted hole, and fingers to strip material from the punch.
The holes opened up, and then forging with the flypress.